Michael Young 1971 - 2015
On the morning of October 22, 2015, my brother-in-law passed away. It was sudden and unexpected. When I found out about it from my dad, my entire body was shaking. No way could it be real. I called my sister, Dawn, and she confirmed the news about her husband. Her voice sounded so distant, even on the phone. After she came home that day, we sat with her in our garage, and a bunch of our friends and family came over that day and joined us.
I'm very grateful to everyone who was there that day, and each day after. I think that incoming stream of constant support helped my sister more than anything. My mom also came into town, having traveled all the way from Massachusetts to be with us for a week. She definitely helped us all feel better, even with just her presence.
There was a potluck last week to celebrate Michael Young's life. It was held at my aunt's house, which was more accommodating for the amount of people that confirmed they would show up. We still ended up being shoulder to shoulder in her house, and nearly everyone brought food to put on the table.
Lilah (my daughter) and Dawn (my sister)
Dawn and our Mom
There was also an empty book set up in the corner next to Mike's picture, so that it could be filled with memories from anyone who wanted to write in there. Even Lilah wrote in there.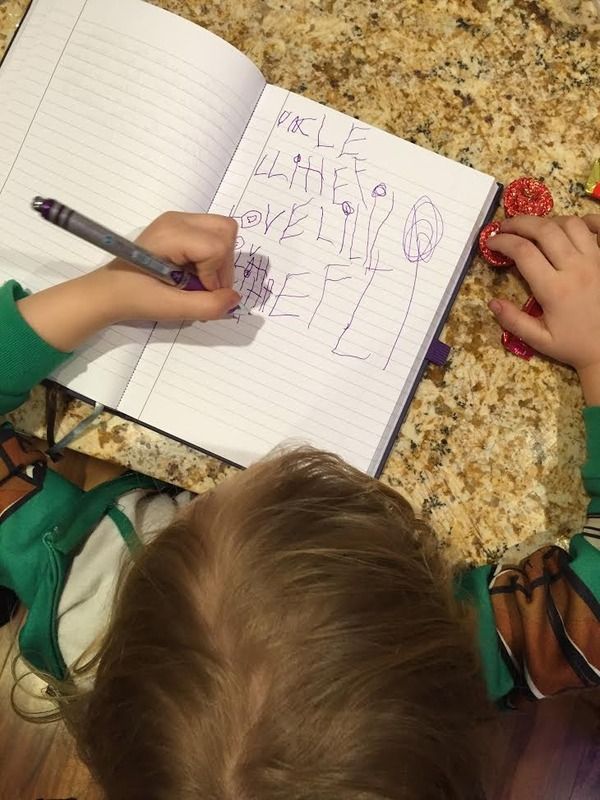 I'm not going to share what I wrote in the book, but here is what I wrote on Facebook about my relationship with him,
I first met Michael Young

when I was 14 years old, and it wasn't long after that he married my sister, Dawn. It was obvious from the beginning of their relationship how much he cared for her, and he extended that care to me as well, often calling me the little sister that he never had. When Lilah and I needed someplace to go, he and Dawn opened up their home to us. He told me that I should start going to college since I had the opportunity and support to, and he supported me every step of the way. He believed in me, even when I didn't believe in myself. He was a very loving man who would always be there to help those in need. He had a big heart and a big presence, and I am very happy that he touched my sister's life and all of those that he met.
This was my first time experiencing a loss like this. Though my grandfather and my great grandmother both passed away during my lifetime, I was in a completely different part of the country from them, and hardly interacted with them or knew them. Thus, it didn't affect me like it did my mom or my aunt. However, we all lived with Mike. I saw him in person almost every day. I've surprised myself with my denial, expressing my thoughts to Cameron like, "They must have made a mistake. They must have the wrong person.", even though I know that's not the truth of the situation.
Those first few nights after he died, it was difficult to fall asleep and stay asleep. It's easier now, but it was really rough at first. My sister is doing okay. She has been sticking to her usual routine, and has a huge band of friends who have infinite support to offer her. She also started writing in a journal, which I think is a great idea.
It's hard to believe that it's already been two weeks since Mike passed away. Last night, Lilah slept with a tiny picture of him in her bed. I feel sad that he won't be here to celebrate her fifth birthday this next week, but I know he would have wanted us to make it as fun as possible for her, so we will.